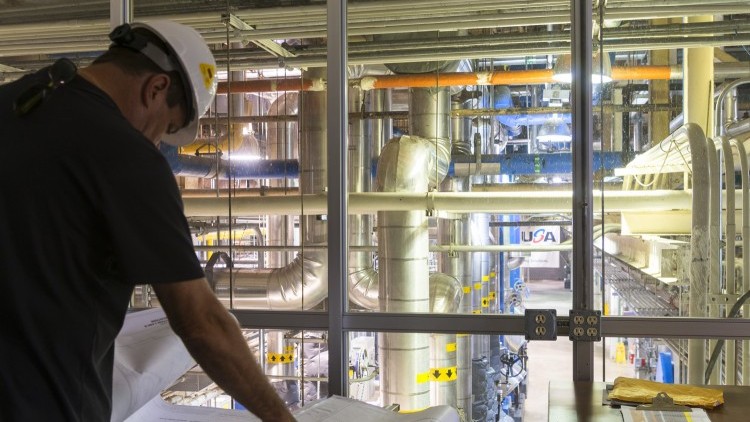 Energy Efficiency
We believe that the work we perform to optimize and upgrade systems and to enable wise controls allows Comfort Systems USA to optimize energy use and fundamentally reduce our nation's carbon footprint.
At Comfort Systems USA, our emphasis on environmental stewardship and improving productivity drives our effort to become more energy efficient. Replacing an aging building's existing systems with modern, energy-efficient systems significantly reduces a building's energy consumption and carbon footprint while improving cost, air quality and overall system effectiveness.
We strive to minimize our environmental impacts through board oversight, regulatory compliance, ongoing improvement investments, local specialists, and community group involvement. Our Board of Directors supplies high-level oversight of our Environmental, Social and Governance (ESG) performance through the Nominating and Governance Committee, which reviews and advises on updates from our corporate management team on at least a bi-annual basis.
Comfort Systems USA is Committed to Developing and Adopting Leading Technologies
We are improving productivity by increasing use of innovative techniques in prefabrication, project design and planning, as well as in coordination and production methods. We have invested in the refinement and adoption of prefabrication practices. Our additional investments in design and building information modeling enable us to collaborate with our customers to achieve reliable and energy efficient construction outcomes and to eliminate unnecessary waste.
We work to identify, develop and implement new materials, products and methods that can achieve greater productivity and more efficient and sustainable outcomes. Above all, we have concluded that as technology develops in our industry the fundamental prerequisite for leadership in adopting such opportunities is the quality, accuracy and buildability of our designs.
Accordingly, we have invested in the experts, training, and internal and external knowledge transfer to ensure that we are properly scaling, achieving true buildability and fundamentally and continuously improving our design capabilities to meet our customers' evolving requirements.